Products
Our windows are beautiful and remarkably solid, sturdy and stable. Plus, our beveled mainframe design is exceptionally slim and refined. Their sleek construction easily complements any type of architecture.

You'll find that our vinyl frames will never chip, peel, crack or warp, and will never need painting or caulking. And our tilt-in sashes make cleaning a pleasure. All of our windows come standard Low-E Argon filled glass and with non-metal Warm Edge Super Spacers. You'll save money on energy bills because the superior performance helps reduce heating and cooling costs.
The ultimate choice for beauty, comfort and energy efficiency, our vinyl replacement windows help to pay for themselves through lower energy costs, freedom from maintenance and increased property values. Plus, our impressive LIFE OF THE HOME WARRANTY delivers the peace-of-mind you would expect from an industry leader.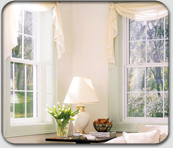 Double Hung
Our double hung windows offer all of the energy savings and comfort you would expect from a premium vinyl replacement window, with the added benefit of dual sliding panes and tilt-in cleaning. Savings and convenience are the cornerstones of our vinyl replacement windows.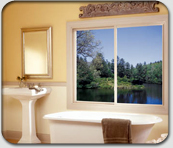 2 Light Sliders

Old metal sliders are often misaligned, difficult to open and a huge conductor of thermal energy into and out of your home. Our premium vinyl sliders are perfectly balanced and sealed to prevent water intrusion into the track. They also feature warm edge spacers, dual pane Low-E argon filled glass and an energy star rating.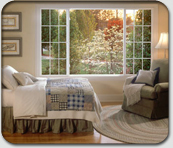 Picture Windows and 3 Light Sliders

In many homes, large picture windows are the biggest offender of lost energy. You can replace your old picture windows with our premium vinyl replacement windows. They feature dual pane Low-E argon filled glass and an energy star rating. Our windows will actually pay for themselves with the amount you will save on your energy bill.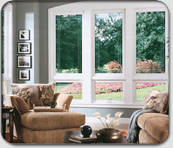 Casement and Awning Windows

Our Casement and Awning windows provide the perfect combination of style, simplicity and elegant design that clearly indicate how much you care for your home.
Simple beauty and superior design shine through in every Casement and Awning window. These styles feature maximized glass area, providing an open, clutter-free look that makes any view more elegant. Let in more natural light, and make a bold statement that will add character and life to any room.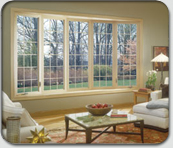 Bays and Bows

These three-dimensional windows create dramatic new looks, adding style to the exterior of your home as they expand interior space, light and view. You might want to create instant charm with a cozy bay window reading nook, or, create a graceful setting with an elegant bow window. Regardless of your choice, a new Bow or Bay window can make any room more interesting, more personal and more livable.

Our Bay and Bow windows are exceptionally energy-efficient, helping to lower your heating and cooling costs, increase the comfort of your home, and even improve its resale value. And like all our windows, they are designed for a lifetime of performance and maintenance freedom.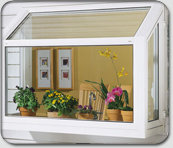 Garden Windows

Imagine feeling warm sunny days with gentle breezes from within your home. Create a wonderful display of herbs and plants to invite yet a bit more of the outdoors inside. A deep, 17 in. seatboard is the perfect home for your favorite organic decor. And a full 1" insulated glass package ensures year-round comfort for you and your plants. On warm days, the fully screened, twin-sealing side vents invite those gentle breezes right into your home.
Our Garden windows are virtually maintenance-free. They will not chip, peel, or blister and will never need scraping or painting. Combined with our Factory Warranty, it adds up to a package that's hard not to fall in love with.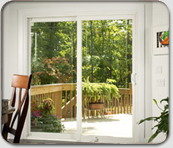 Patio Doors

Your own personal style is reflected in many ways, and your home is no exception. You might choose from the subtle, warm tones of our standard white or beige windows. Or, make a bolder statement by complementing your exterior with our American Brown exterior window.
On the interior, in addition to white and beige, you may choose from three splendid woodgrain finishes. This option will allow you to accent, or complement any natural décor that may already exist. And if beige is your exterior choice, we also offer a white interior finish that may add to that clean, crisp look your room desires.